BEACHES
Days out at the seaside
There's something very special about the feeling of sand between your toes. Here on the North Devon coast we have some of the UK's finest beaches.
From soft sand speckled with shells and perfect for sandcastles, to more rugged beaches where the tide recedes to reveal rockpool treasures…secret little hideaway coves to miles of sand as far as the eye can see…it's all here, you just need to know where to look.
This is our guide…
BEST FOR FAMILIES
Sandy-toe adventures
North Devon beaches are beautiful. Blessed with magnificent stretches of golden sand, secret beaches and secluded coves, this designated area of outstanding natural beauty is a fabulous place to enjoy some sandy adventures. From caves, grottos and body boarding, to kite-flying and tide-filled rockpools, this is our pick of the best family-friendly beaches.
All of the following have toilets, cafe or restaurant, and easy parking…
Miles of sand
A great mix of everything – the dunes backing the beach are a haven for happy kids, there's fabulous rock pooling and kids love splashing in the stream which splits the beach in half.
The Southern end of the beach is less busy – park at Down End Pay & Display. It takes only a couple of minutes to reach the beach from the path.
There are RNLI lifeguards here until October half-term, as well as a National Trust tea room, toilets, showers and playground.
Off the beaten track
Putsborough and Woolacombe Sands merge into a 3 mile sweep of beautiful beach between Morte Point and Baggy Point. With less swell than Croyde, this beach is an intermediate surfer beach.
Putsborough Sands is an easy walk from the hotel – not suitable for prams – but easy enough for young children to do & varied enough to keep them amused. Alternatively there is a car park. Toilets and a cafe are available but there are no RNLI life guards so watch your little ones and don't let them play where the waves aren't breaking.
Mellow surf
With 3.5 miles of soft sand, Saunton Sands is one of the best beaches in North Devon for families. The surf is mellow, making it the perfect spot to get kids in surfing, boogie boarding or skim boarding. It's also possible to hire beach huts for the day (although demand is high).
This beach is not RNLI patrolled so whilst it is regarded as a relatively safe beach, do keep an eye on children. There is a voluntary patrol by Saunton Sands Surf Life Saving during the Summer months. There's a pay & display car park, toilets, showers and a choice of dining options.
QUIET COVES
Shhh…
North Devon is famed for its hidden coves, sandy stretches and breath-taking bays. But those are the shores that people know about…for every one of our famous expanses, there is a lesser known gem waiting to be discovered. You may need to pack your own your picnic (or ask us to prepare one for you), and you may need to hike a little to get to these, but they're worth it.
A coastal stroll away
"Small but perfectly formed sunset sand cove in Woolacombe. Good swimming and jumping and a little rock island to climb. Bring a rug, your own beer, and eat home-made Sri Lankan curry from the shack"
WILD GUIDE
From Woolacombe beach simply head north along the Esplanade and the cove is on the left after 300 metres.
Secret cove
A pretty 2km coastal walk from Woolacombe will bring you to this large, isolated west-facing beach. Hauntingly beautiful, this secluded bay used to be known as 'Death Point' – in times gone by the rocks and treacherous currents here caused numerous shipwrecks, five in one year in fact – one wreck can still be seen.
This is one for the mobile as there are steep steps down to the sands. The beach also needs to be visited at low tide so check tidal tables before setting out. At low tide a sandy beach with rocky areas is revealed. Take the coast path from Woolacombe or the footpath via Mortehoe (signposted Rockham Bay).
Untouched beauty
"Silver shingle cove with soapstone rocks, small caves and a secret route across the beach to a second cove. Rocks for jumping."
WILD GUIDE
Lee village is 3 miles west of Ilfracombe, so a short drive from Woolacombe. At low tide follow the causeway across rocks 300 metres via carved steps to a second cove on the left. Alternatively, you can take the path from the top of the hill heading west out of the village.
ROCKPOOLING
Top picks…
Wildlife including crabs, shrimps, anemones, limpets, snails and starfish can all commonly be seen in rockpools around the North Devon coastline. This is a great pass time for little'uns and adults alike, and you don't need any equipment at all. However, if you would like a closer look, then just a bucket is enough. It's best to use your hands rather than a net to scoop up any wildlife as nets can get tangled or damage important little homes. If you use a bucket, operate a 'one in, one out' policy – sea creatures get stressed too! And remember: always replace animals, rocks and seaweed as you found them.
Tidal treasures
This small beach near the wide golden sands of Woolacombe. It has lots of family-friendly rockpools where you will find treasures like crabs, starfish, sea anemones and barnacles.
POSTCODE: EX34 7BE
Seaside surprises
This is a little, narrow beach with steep cliffs and not that much dry sand for spreading towels and staking windbreaks…but it has a surprising amount of rockpools! Go at low tide it is the perfect location for rockpooling – the cliffs offer shelter and the receding tide exposes numerous treasure troves (pools)!
Really deep, the pools here will afford you great views of sponges, volcano barnacles, coral weed and strawberry anemones.
POSTCODE: EX34 0DJ
Rockpool rockstars
Barricane Beach faces due west and is fully exposed to the Atlantic weather, but low tide exposes deep weed-fringed pools and narrow water filled gullies.
Here, 5-bearded rocklings are very common, as are sea anemones (multiple varieties). Go after a storm and you may spot treasures like spiny starfish.
POSTCODE: EX34 7BT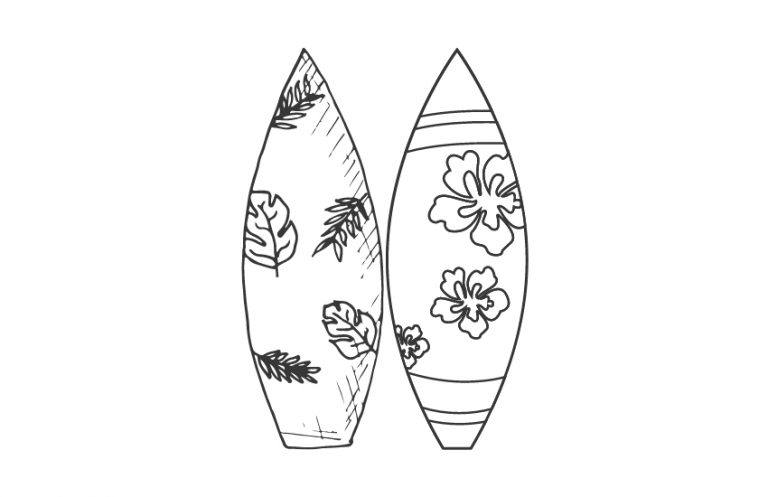 SURF SPOTS
Ride the waves
There are few things as exhilarating as catching a wave. We've got some of the best places to surf in North Devon. The best time of year to surf is in the autumn; this is when the swells are higher, but the water is still warm with summer's heat. That said, there's nothing better than heading to a surf break that constantly delivers above average, very good or world-class conditions throughout the year, whatever the weather. North Devon is that place.
A surfer's dream
Most surfers would consider a point break the perfect wave as the actual time riding the surfboard will be the longest. At our very own Woolacombe Beach, point break is to the right. Here you will find amazing conditions, but be careful of rocks.
If you don't like to paddle far to get out to the breaking waves, beach break here is known as "middle beach" – basically it's anywhere left of the stream.
Starter surf
Saunton is one of the best beaches when it comes to facilities for pre and post-surf; there's a seasonal beachside grill, as well as deck chair and beach hut hire so you can really make a day of it. It is much more suited to beginners and intermediate surfers than its neighbour, Croyde Bay.
If you're looking for point break, it's to the left at Saunton.
Little-known fact… Robbie Williams used Saunton in the video for 'Angels'.
Local favourite
Putsborough Sands is a favourite with locals. It's perfect for sunset sessions – keep an eye out for long cruisey waves – they're especially good for longboarders.
This beach has clear water, great surf and a gentler away-from-it all feel.
Explore more travel inspiration…