What is a Rasul Experience?
The rasul – often referred to as a rhassoul, rassul or mud chamber, it is a traditional Arabian cleansing ritual. The term refers to the ritual, and the chamber in which it is held.
At The Alchemist Spa our rasul chamber is a beautifully tiled, subtly-lit, private spa treatment room equipped with steam, shower, and heated benches.
The central element of a rasul experience is the application of mineral-rich mud or clay which you apply to your body, followed by time for mindful relaxation, immersed in steam and heat.
The mud or clay is then showered off, before you apply a beautifully scented scrub of your choice.
A rasul is a self-administered spa treatment for you to enjoy solo, with friends, or in a couple as an experience to share.
The benefits of a rasul include exfoliation, skin rejuvenation, relaxation, and stress reduction.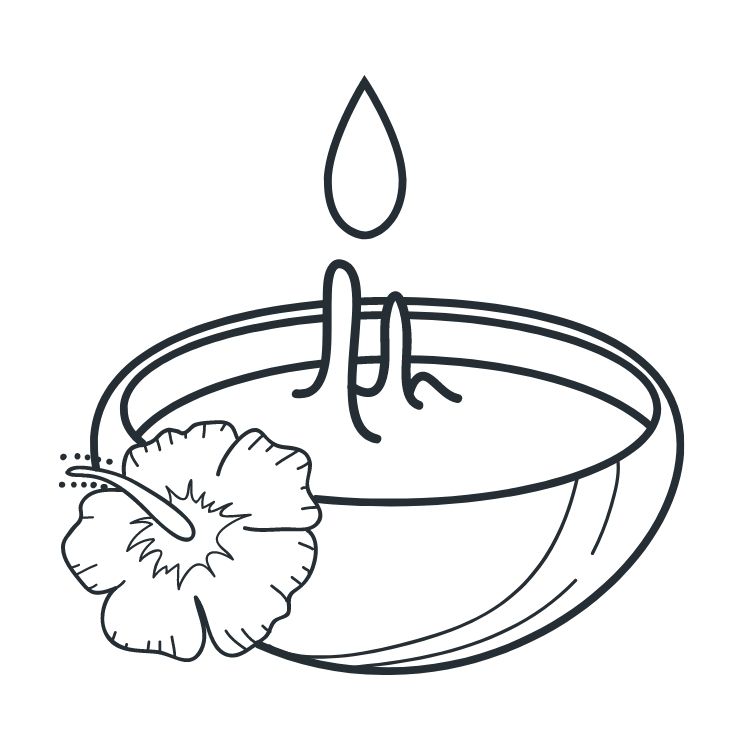 Discover the tradition of mud rasul treatments
THE ORIGIN OF RASUL THERAPY
Rasul therapy traces its roots back thousands of years to the heart of Middle Eastern and Arabian traditions.
It draws inspiration from the rich cultural tapestry of the region, where rituals for well-being, detox, and purification have been practiced through the ages.
The word "Rasul" itself has an Arabic origin, signifying both the process and the chamber where this treatment takes place.
The traditional rasul therapy was a communal practice, often shared among close-knit communities and friends.
Modern spas like ours have adapted this ancient ritual to offer private rasul rooms, great for individuals, couples, and perfect for sharing with small groups of friends looking for a unique spa day experience. It's an opportunity to enjoy quality time together and to discover the wonders of this time-honoured wellness ritual.
Today, in the heart of our luxury spa, you can immerse yourself in the soothing ambiance of our specially designed rasul chamber, where the blend of ancient practices and modern comfort will leave you with skin that feels silky smooth and a sense of deep relaxation. As you embark on this journey, you'll find that rasul therapy isn't just about cleansing the body; it's about nourishing the soul and achieving a profound sense of well-being.
THE RASUL TREATMENT PROCESS
Picture yourself at The Alchemist Spa, where the journey to ultimate relaxation and well-being begins. Our exclusive rasul chamber awaits, a haven of tranquility that beckons with its intricate tiling, signature Alchemist Spa purple lighting, and an ambiance that promises serenity… 
Visit the Scrub Bar to
CHOOSE YOUR SCRUB
As you venture into The Alchemist Spa, your first stop is the intriguingly named Scrub Bar, the place where your rasul journey begins. Nestled within the tranquil Spa Reception, this enchanting corner invites you to make a delightful choice – selecting your favourite scent from our seasonal selection.
Picture yourself deciding between scents like Nectarine and Honey, reminiscent of a sun-kissed orchard, or the refreshing allure of Winter Pear. Perhaps you'll be drawn to the zesty embrace of Lime and Lemongrass, the earthy blend of Mint, Patchouli, and Green Coffee, or the invigorating fusion of Bladderwrack and Peppermint?
If you seek the extraordinary, you might even be tempted by Yuzu, Pink Beets, and Watermelon… and these are just a few of the intriguing choices that await!*
These softening and nourishing scrubs are to be applied to the skin once you have rinsed away the clays, leaving the skin with a light layer of deliciously scented balm. Hence, we recommend choosing your scent based on how you'd like to feel – refreshed, relaxed, or soothed – and the scent you'd like to hold on to after your treatment.
*Please note, these are subject to frequent change.
Getting ready for
YOUR RASUL EXPERIENCE
Your journey continues as you're gracefully guided to our luxurious changing rooms. These spaces are more than just places to prepare for your Rasul adventure; they're a sanctuary in themselves! Here, you'll discover lockers (free), plush robes, and snug slippers. There are also hair dryers for your use.
While there are hooks to hang your robes in the rasul suite (which is also private and secure), we encourage you to leave your mobile phone and other belongings in the lockers. Your rasul experience should be a delightful escape from the everyday! In terms of what to wear for your rasul, we recommend swimwear.
Meanwhile, behind the scenes, a skilled therapist is hard at work, preparing the traditional spa mud and your chosen scrub. Your mud and scrub(s) will be in the rasul when you step inside – ready for your self-administered treatment.
Step into
YOUR PRIVATE OASIS
The rasul chamber is a private steam room, located in its own hidden hideaway of a suite. This spacious suite will be yours exclusively throughout your rasul experience; you will not be disturbed.
Stepping into the tiled rasul chamber itself is like entering a private steam chamber – a world of your own.
This private spa treatment room is a sanctuary where the heated benches offer a cosy space to unwind, and the steam and shower/sink facilities stand ready to envelop you in a cocoon of warmth and cleansing. Your mud and scrub will await.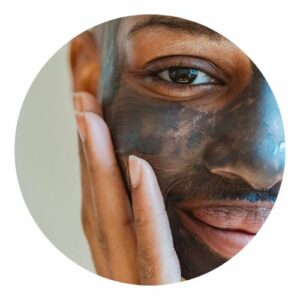 The heart of the ritual
MUD & CLAY
At the core of your 45 minute rasul experience lies the application of mineral-rich mud or clay. Deeply nourishing, the mud is specially designed to revitalise your skin. The process is simple yet deeply rewarding – you, yourself, are in charge.
We recommend that mud is applied to your face and body, and you can even get your hair muddy – if you wish! The mud ritual offers a unique opportunity for a deeply personal connection – both with this ancient practice, and a mindful connection with your own body. We use our bodies every minute of every single day, but we rarely give them the attention and care they deserve.
Once you're nicely covered from head-to-toe, flip the hourglass spa timer, and lie stretch out a heated bench.
After a short time, the lights will dim and the rasul chamber will begin to heat up, as occasional bursts of warm steam fill the rasul chamber. The chamber will reach a nice warming temperature, that is cosy and soothing, but not hot. We use the heat and the mud to draw out any impurity in the skin and pores, while you chill out. 
Time for
MINDFUL IMMERSION
As the hand-harvested mineral-rich mud works its magic on your skin, you find yourself immersed in an environment of gentle steam and comforting heat. It's a moment for mindful relaxation, a pause from the hustle and bustle of everyday life.
The centuries-old tradition of rasul therapy comes to life in this serene space, allowing you to unwind, detoxify, and nourish your body and mind.
Time for a
REFRESHING CLEANSE
After this mindful interlude, and one empty of the hourglass, it's time to wash away the cares of the day…and the clay! Handheld shower heads are at your service, helping you to gently rinsing off the mud or clay, leaving your skin feeling refreshed and rejuvenated.
But the rasul experience doesn't end here; it transitions into a delightful finale…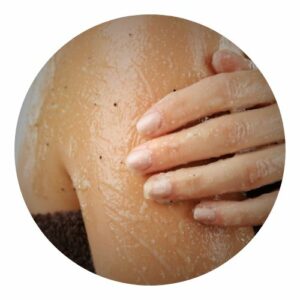 Scrub time!
FRAGRANT FINISH
Following the mud application and rinse, you have the chance to indulge in the second part of your self-administered pampering ritual: it's scrub time! This final touch leaves your skin not only nourished but also delicately fragranced, providing a sensory treat that enhances the overall spa experience.
Scoop a satisfying dollop of the scrub into your fingers and take time to pamper your body by gently massaging the beautifully scented scrub onto your skin. Here are a few tips to enhance your technique:
Start with small, circular motions…
Working your way from your extremities toward your heart to stimulate circulation. No face or hair this time!
Pay extra attention to…
Tough or dry areas like elbows, knees, and heels.
As you indulge…
Close your eyes and let the aroma transport you to a world of relaxation.
Take your time…
There's no rush. This is your moment to luxuriate in the soothing ambiance and enjoy the process.
The scrub application not only complements the purifying power of the mud but also adds a personal touch to your rasul journey. It's the combination of this hands-on approach an dthe warm steam thta you can thank for leaving skin not only cleansed, but also radiantly refreshed, turning your spa day into a transformative self-care experience.
At the end of your restorative rasul, the lights and overhead rainforest shower automatically turn on, washing away any excess salt from the skin. Private showers are also available in the rasul suite, outside the tiled chamber.
Continue your wellbeing with
TIME FOR REFLECTION
The rasul treatment process at The Alchemist Spa is a harmonious blend of ancient rituals and modern luxury, promising a journey that detoxifies, nourishes, and revitalises. As you exit the chamber, you'll carry with you a sense of well-being that lingers, a testament to the power of this spa ritual that has stood the test of time.
As you step out of the soothing embrace of the rasul chamber, allow yourself a moment of rejuvenation. Indulge in a glass of refreshing orange-infused water, thoughtfully provided either within the Rasul suite or in our serene Reflection Room. Your spa therapist will guide you to this tranquil haven following your rasul experience.
Inside the Reflection Room, you'll be welcomed by an atmosphere of calm and luxury. The room beckons with its soft, muted tones and invites you to unwind on sumptuous chaise lounges. Take this precious opportunity to fully absorb and appreciate the many benefits of your rasul therapy.
Stretch out, close your eyes, and let the profound sense of well-being that the rasul ritual has bestowed upon you sink in, leaving you refreshed and ready to face the world anew.
Discover the
TRADITIONAL INGREDIENTSUSED IN RASUL THERAPY
The traditional ingredients used in rasul therapy include:
1. Hand-harvested mineral-rich rasul mud: The cornerstone of this spa treatment, holds the key to its efficacy. This mud is specifically formulated to cleanse and detoxify, leaving your skin radiant and impurity-free.
The nourishing muds are provided for you to apply as the gentle stream of steam drifts into the chamber, enveloping you in warmth, allowing the mud to work its wonders while you unwind.
As the mud is rinsed away, it takes with it the cares of the day, leaving you feeling rejuvenated and your skin nourished.
2. Steam: During a mud rasul ritual a gentle stream of steam is released into the chamber during rasul therapy. The steam helps to create a warm and relaxing environment while also allowing the mud to work its wonders on the skin.
These traditional ingredients work together to cleanse, detoxify, and nourish the skin, leaving it feeling rejuvenated and radiant.
DETOXIFICATION AND CLEANSING PROPERTIES OF STEAM
The heart of the rasul experience lies in the combination of steam and mineral-rich mud, creating a dynamic duo with exceptional detoxification capabilities. Steam opens up the pores, allowing impurities to be gently drawn out of the skin.
This process not only cleanses your skin but also purifies your body, leaving you feeling refreshed and revitalised.
Exfoliation and skin rejuvenation
The application scented scrub is an exquisite form of exfoliation. The granular texture helps remove dead skin cells, unveiling a fresh, radiant layer beneath. This gentle exfoliation leaves your skin smooth, glowing, and ready to better absorb nourishing treatments, ensuring you leave the spa with a luminous complexion.

Relaxation and stress reduction
Amidst the soothing warmth of the rasul chamber, relaxation and stress reduction are inherent to the experience. The mindful immersion in steam and heat, coupled with the tranquil ambiance of the spa, provides the perfect environment to release tension and anxiety. As the centuries-old ritual continues to work its magic, you'll find yourself transported to a realm of tranquility and well-being.
A rasul experience can be enjoyed solo, or is one of the best treatments for couples – on spa days or spa breaks. This unique experience not only offers individual well-being but also the unique and shared experience of indulging in the ancient ritual together, strengthening the bond between partners in a tranquil and harmonious setting.

Improvement of respiratory conditions
The benefits of steam extend beyond the skin, as they have a profound impact on respiratory conditions. Inhaling the warm, moist air can help alleviate congestion and discomfort associated with respiratory issues. Whether you suffer from allergies, sinus problems, or simply seek to clear your airways, the rasul treatment can provide welcome relief, making each breath feel rejuvenating and refreshing.
HOW TO PREPARE FOR A RASUL SPA DAY
Before stepping into the serene world of rasul therapy, it's helpful to prepare both your body and mind. Hydrate adequately, and consider a light meal a few hours before your appointment to ensure comfort during your session. Arrive with an open heart, ready to embrace the ritual and immerse yourself in relaxation!

Pre-appointment instructions and considerations
To make the most of your rasul experience, consider avoiding alcohol or caffeine immediately before your spa day. If you have specific concerns or preferences, don't hesitate to speak to our helpful spa team. They are there to ensure your session is as comfortable and enjoyable as possible.
What to wear and bring to the spa
The beauty of a rasul spa treatment is its simplicity. You don't need to bring any special clothing. The spa will provide you with everything you need, from robes to slippers. Just ensure you bring swimwear, as it's typically worn during the session. Additionally, don't forget your personal items like a hair tie, if necessary, and any specific toiletries you prefer to use.
Hygiene and etiquette guidelines
Hygiene and etiquette are crucial to ensuring a pleasant experience for both you and your fellow spa-goers. It's recommended to shower before your session and to thoroughly rinse off any body lotion or oil.
If you spend time in the swimming pool or Thermal Spa, be mindful of others, and use the provided tools and facilities with care. Silence your phone and speak softly to maintain a peaceful ambiance in the spa.
Things to Consider before trying rasul therapy
Before embarking on your Rasul spa day, it's important to address some key considerations to ensure you make the most of this unique experience. While Rasul therapy is generally safe and rejuvenating, there are aspects to think about…
First and foremost, think about your personal comfort. Rasul therapy involves applying mud and enjoying steam, so be prepared to get a little messy and warm. Wear swimwear and clothing that can be easily cleaned, and bring items like a hair tie if needed to keep your hair tidy.
Next, consider your personal preferences when it comes to scents and sensations. The scrubs used during rasul therapy often come in various fragrances, so if you have a specific scent in mind or any allergies, communicate your preferences to the spa staff.
Potential contraindications and medical concerns
Before embarking on rasul therapy, it's wise to consider any potential contraindications and medical concerns. If you have skin conditions or other health issues, consult with a healthcare professional to determine if rasul therapy is suitable for you. Always prioritise your well-being and safety.
Avoid the rasul chamber and steam room at The Alchemist Spa until you get the all-clear from your medical professional if any of these conditions apply to you:
1. Pregnancy
2. Immune-compromised
3. Recovering from surgery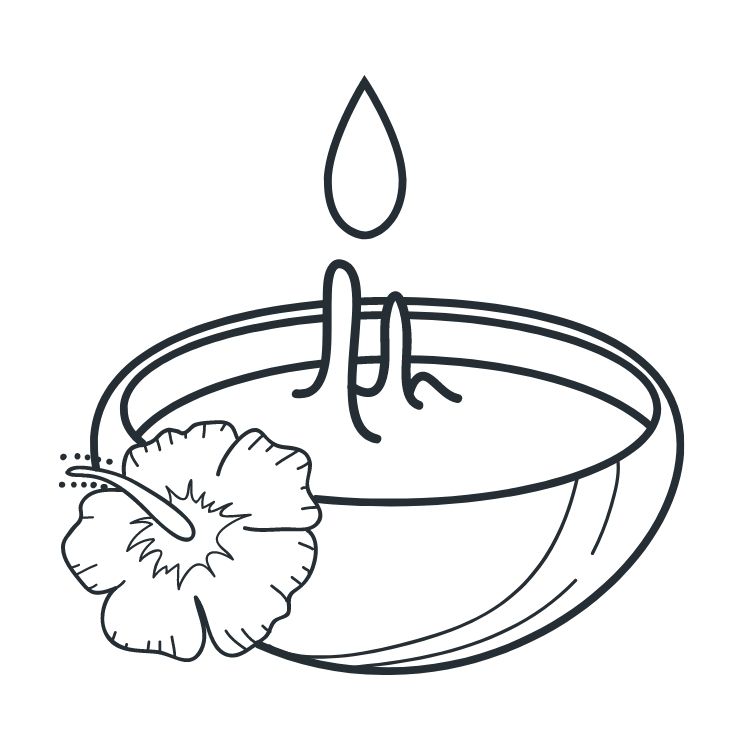 Suggested frequency of rasul therapy sessions
The frequency of rasul therapy sessions may vary depending on your individual needs and preferences. Some spa-goers enjoy a Rasul treatment as an occasional indulgence, while others choose to incorporate it into their regular wellness routine. It's essential to listen to your body and find a balance that suits you best.
ADVICE FOR YOUR FIRST RASUL
This is your spa experience…
For those new to the rasul experience, here's some fun advice to ensure your first visit is an unforgettable and enjoyable one:
1. Embrace the Mess: Don't be afraid to get a little muddy; it's all part of the fun! The cleansing mud and steam are part of what makes rasul therapy unique.
2. Savour the Scents: When choosing your scrub, select a fragrance that truly speaks to you. It's not just about the skin; it's about what delights your senses.
3. Cherish the Quiet: Rasul chambers are a haven of tranquility. Enjoy the peaceful ambiance and relish the break from the hustle and bustle of daily life. You don't have to get worried about following the ritual exactly: this is your rasul experience.
4. Don't Rush: There's no need to hurry. Take your time, both during the treatment and in the Reflection Room afterward. It's all about relaxation.
5. Communication is Key: If you have any questions or preferences, don't hesitate to speak with the spa staff. They're there to make your experience as enjoyable as possible.
6. Celebrate the Moment: Rasul therapy can be an incredibly bonding experience for 2 people, or more! We often welcome small hen parties and friendship groups, who enjoy a restorative rasul, followed by a naughty-but-nice afternoon tea together.
7. Celebrate Your Skin: After the treatment, your skin will feel amazing. Don't forget to take some time to bask in your newfound glow!
Remember, a little mud, a lot of relaxation, and a touch of pampering make for a wonderful rasul spa day. Enjoy every moment and you'll leave with a sense of well-being that lingers long after your visit.
IS THE RASUL THE PERFECT SPA TREATMENT?
We think so!
In the realm of spa experiences, the rasul ritual stands as a beacon of both tradition and modern luxury, offering a spa treatment that's as unique as it is beneficial. We've explored the myriad advantages that come with a visit to a spa with rasul, and it's clear that this ancient practice has seamlessly integrated itself into the contemporary world of wellness.
The rasul ritual brings a plethora of benefits to the table. From the detoxification and cleansing properties of steam to the gentle exfoliation that leaves your skin radiant and refreshed, it's a spa treatment that pampers both body and mind. The relaxation and stress reduction it provides are nothing short of a balm for the soul, while its potential to improve respiratory conditions offers solace to those in search of a breath of fresh air.
For couples, friends, or individuals, a rasul spa day is an unparalleled shared experience that not only rejuvenates but also strengthens bonds and fosters well-being.
So, whether you're a first-time visitor or a seasoned spa enthusiast, don't miss the chance to immerse yourself in the magic of the Rasul.
A rasul is not just a spa treatment, but an enriching journey to well-being that has stood the test of time, promising relaxation, rejuvenation, and a profound sense of inner peace. The rasul ritual is, without a doubt, the perfect spa treatment for those who seek something truly exceptional.
HOW TO BOOK A RASULMUD SPA TREATMENT
At The Alchemist Spa
To book a 45-minute Signature Rasul Journey or make an enquiry, simply call us on 01271 872102.
It is also possible to book spa experiences online:
A rasul experience can be enjoyed independently, as part of a hotel stay, or included in a Spa Day or Spa Break.
ABOUT THE ALCHEMIST SPA
A wellbeing sanctuary
Nestled on the wild North Devon coast, at the heart of the Woolacombe Bay Hotel, The Alchemist Spa is a spa with rasul. An award-winning spa in the south-west, it is a haven for those seeking a unique and transformative spa experience.
Our spa facilities include a beautiful indoor pool and Thermal Spa (sauna, steam, hot tub), plus a selection of thermal experiences, we are dedicated to blending ancient rituals with modern luxury. Our serene spa offers a range of therapies and wellbeing practices, ensuring that every visit is a journey to relaxation and rejuvenation.
At The Alchemist Spa, every step of your rasul experience is an enchanting adventure, from the moment you choose your signature scent to the behind-the-scenes preparations that make it all possible. It's not just a spa traetment; it's a sensory journey that invigorates your senses. Come, allow your senses to lead the way and indulge in the power of the rasul…
All your questions, answered…
A rasul is a luxurious, self-administered spa treatment that involves applying mineral-rich mud to the body and then relaxing in a heated chamber. It is a cleansing, nourishing, and therapeutic experience that helps to detoxify the skin and promote relaxation. At The Alchemist Spa, this experience also includes the application of a deliciously scented scrub.
During a Rasul Mud Ritual, the body is covered in organic mud that is infused with various minerals and essential oils. The mud is then left to dry on the skin, allowing the minerals to penetrate and detoxify. The heat in the chamber enhances the absorption of the mud and helps to open up the pores, allowing for a deep cleansing experience.
A rasul massage typically refers to a spa treatment that combines the rasul ritual with a massage. It starts with the self-applied application of mineral-rich mud or clay on the body in a steam chamber, followed by a shower to rinse the mud away. Then, a therapist provides a massage to further enhance relaxation and well-being.
We do not offer this experience at The Alchemist Spa, but you are very welcome to book a rasul experience, followed by a massage treatment – which is exactly what 'The Scarlet Spy' from the Good Spa Guide chose to do! Read her spa review here.
If you would like to book a rasul and a massage, we recommend our signature Full Spa Day.
What is the rasul treatment procedure?
During a rasul experience, you will be guided into a private tiled chamber – the rasul – where you will apply hand-harvested mineral-rich mud to your body. Your therapist will provide you with instructions on how to apply the mud evenly and effectively. Once the mud is applied, you will relax, immersed in a light steam, on heated benches, and let the mud dry on your skin.
Once rinsed, you will apply a handpicked exfoliating scrub to leave your skin super soft. After 45 minutes, you will rinse off the scrub in a rain shower. After your rasul, you are invited to relax and rehydrate with fruit-infused water in the Relaxation Room.
What are the benefits of a rasul?
A Rasul Mud Ritual offers numerous benefits for both the mind and body. It helps to deep clean the skin by removing toxins, impurities, and dead skin cells. The minerals in the mud nourish and revitalise the skin, leaving it soft, smooth, and youthful.
The heat in the chamber promotes relaxation, relieves muscle tension, and reduces stress. Additionally, the aromatherapy aspect of the treatment can have a calming and rejuvenating effect on the mind.
Who can benefit from a rasul mud ritual?
A rasul mud ritual can benefit anyone who wants to indulge in a relaxing and pampering spa treatment. It is especially beneficial for individuals with dry or dull skin, as the minerals in the mud can help to hydrate and brighten the complexion.
It is also beneficial for those with muscle tension or stress-related issues, as the heat and aromatherapy can provide relief and relaxation. However, if you have any skin conditions or health concerns, it is always best to consult with a spa professional before undergoing any spa treatment.
What should I wear in a rasul?
The rasul chamber is a private chamber, reserved exclusively for you during your experience. Most guests choose to wear swimwear into the rasul.
How long does a rasul mud ritual session typically last?
Our Signature Rasul Journey lasts 45 minutes – this length of time is pretty typical for rasul experiences. This includes the time it takes to apply the mud and scrub, relax in the chamber, and rinse afterwards.