As most other places, we have kept a handful of our staff and the Managing Director milling around the hotel and grounds, to make sure nothing is suffering from this pause. But not only that, but to enhance it in every way we can for when we welcome you back. We usually close in January every year, but to be closed when the weatheris so glorious is unknown.
So out of the kitchen at most times, with our Sous Chefs, Front of House Manager and 3 more other dedicated staff, we tirelessly checked, mended and adjusted every corner of our fabulous place: from checking boilers to cutting grass, from tiles to gardens, from painting outside to refreshing rooms inside, we've refreshed and tidied every corner!
On a few but great occasions, we land back in the kitchens, drawn by a sweet nostalgia, to try things, to rustle up another little recipe, that perhaps we never got around to do before….
Main things at these times are to do with foraging, pickling and fermenting. We have been given wild garlic from the neighbouring woodlands and fields and with a bit more time on our hands, we turned it into various delights, from a simple wild garlic and tomato sourdough bruschetta, to garlic & mustard butter to cuddle a perfectly sous vide poached rump of spring lamb, to pesto that makes our home made saffron Capunti pasta explode in your mouth with the most welcoming delicate warmth.
Wild garlic vinaigrette is only a blender and 25 seconds away from transforming a duck egg & potato salad into a noble delight, wild garlic gnocchi are really pretend work for adults and fun for the kids, but when they surface from the boiling broth and combine with some lemon & sage butter, a little scatter of parmesan, there is no joke or play about that at all!
I don't know if you noticed that bacon has not even been here yet, so now, it's time: crispy bacon, wild garlic and citrus bread crumbs on a little brushing of home made mayonnaise, baked on a piece of cod or why not chicken breast, gives dinner yet another height, and whilst we're here, it can also land on top of a chunky, creamy fish mix, to create a savoury story of an extra tasty fish crumble, with a lemon, chive & ginger sorbet to complete the feast…
Then you have the mozzarella, fermented tomato & wild garlic jelly salad, then the risotto balls stuffed with wild garlic and truffled gruyere, on a pickled rhubarb salad, sesame cured salmon wrapped in wild garlic "sushi", God, is any end to this? Luckily, NO and maybe just as well, as some revenge must be taken for missing one of our star local delights: Braunton green asparagus!!! Oh how we miss you…
Another focus was on pickling greens that may have come in very welcome, should the food supply ever get too shaky. So, we looked at cabbage, gherkins, tomatoes, peppers, beetroot, spinach, cauliflower, green beans, courgettes. The whole idea is to try to rescue all these veggies from the paws of rapid decay, at bountiful times and keep them for a lot longer, especially so, in the pre-supermarket, pre-imports era.
But then, something magical happened and completely got people addicted to this treasures in jars: some of the nutrients not yet present in fresh fruit and vegetables, came alive through the breaking down laboriously done by bacteria and yeasts and what's more, with it, the flavour became more complex, umami emerged in spades and so people carried on pickling and fermenting.
What's more still, it's that anyone can do with the least amount of equipment, pretty elementary knowledge and some beyond basic ingredients. Apart from being spectacularly tasty and miraculously healthy as they are, pickles make great ingredients. A tomato & white wine braised sauerkraut is so full of umami, that the lingering tangy delight takes the palate days to forget!
A shredded and pickled courgette, will make the most amazing zingy pancake or indeed a wonderful sauce, with a touch of cream and a bit of fresh lemon thyme; gherkins don't really need a lot of advertising, apart from if you never chopped them really finely and stirred them in your finished sauce to go with some juicy pork tenderloin, amongst many things, fermented green beans tossed in a gentle butter bath, make for some palate party too, whilst spicy battered pickled cauliflower, is simply sublime!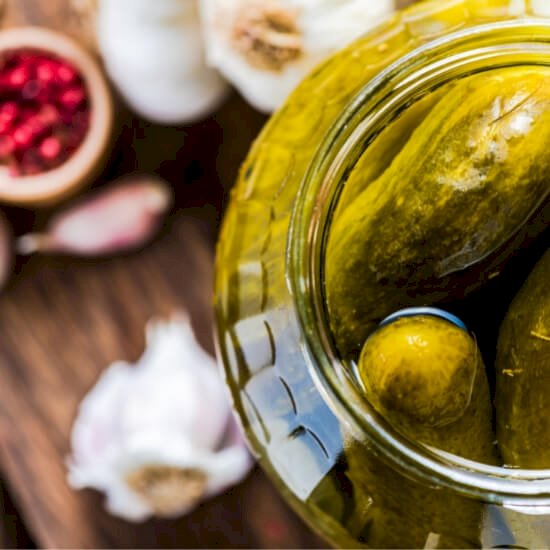 HEAD CHEF
"If you're at all surprised to think that pickles do a great job of feeding the good bacteria in our gut and orchestrating a wonderfully positive hormonal activity in our whole bodies, their mighty, punchy flavour should be enough to convince anyone."
..came the almighty sourdough! This ancient, slow fermentation technique, renders the most rewarding bread flavour experience there is! It starts off with a humble 50/50 flour and water mix and by the time you produce the very first loaf of sourdough bread, you get to learn so much more than just simple bread making! More about that next week…
As the time will allow, we will be trying many more things and quite happily share them with you. For now, have fun, keep fit and well and enjoy cooking! Feel free to get in touch too, for recipes, tips and tricks! We would be delighted to keep close!
Eddie Grecu
HEAD CHEF